UNDERBERG EXPRESS

Shuttle service for Underberg - Howick - Pietermaritzburg - Durban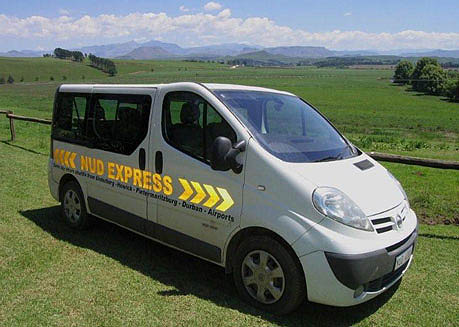 NUD Express is an exclusive same day return shuttle leaving from Underberg in the Southern Drakensberg, travelling the scenic R617 to Howick, linking up with the N3 to Pietermaritzburg and then Durban.

The shuttle picks up and drops off passengers at specific points in - Himeville, Underberg, Bulwer, Howick, Pietermaritzburg, Oribi Airport, Hillcrest, Kloof, Pinetown, Durban and King Shaka Durban Airport.

The shuttle picks up and drops off at Sani Lodge and Khotso backpackers in the Southern Drakensberg and the backpackers hostels in Pietermaritzburg and Durban.

NUD Express do group transfers to and from Durban airport and the backpacker lodges in Pietermaritzburg and Durban to the Southern Drakensberg.

Our well maintained and comfortable vehicles, and courteous drivers will allow you to sit back and relax and enjoy the scenic drive.

Rates & Schedules

Our Route Map


Underberg Express | NUD Express | Underberg Shuttle Service | Underberg Group Transfers | King Shaka Airport Shuttle Service